12 книг для начинающих бизнесменов
Всем привет. В библиотеке LightSail представлено порядка 50 книг бизнес-тематики. Вероятно, их больше, но алгоритм поиска по названиям и описаниям пока не научился анализировать весь смысл произведения.
В основном они биографичные, и это оправданно: если у тебя получилось, расскажи об этом тем, кто пойдет подобным путем. Это сэкономит массу ресурсов новым бизнесменам. Меняются технологии, но принципы человеческих отношений, важность упорства и труда в достижении целей остаются неизменными. И представленные ниже авторы и герои являются отличными доказательствами этих тезисов.
Да, все книги на английском, ведь LightSail — один из лучших источников бесплатной литературы для изучающих английский.
Capital Resources and the Economy
By Prior, Jennifer ISBN 9781480751583 Text in English 34 Pages | 630L | Informational | 4.0MB Capital resources are used every day! These are tools that make it easier for us to do things. They are a part of our economy. The economy helps us get the things that we want and need. Colorful images, supporting text, a glossary, table of contents, and index all work together to help readers better understand the content and be fully engaged from cover to cover.
Apple: The Company and Its Visionary Founder, Steve Jobs
By Lusted, Marcia Amidon ISBN 9781614788126 Text in English 114 Pages | 1200L | Informational | 3.5MB This title examines the remarkable life of Steve Jobs and his work building the groundbreaking company Apple. Readers will learn about Jobs's background and education, as well as his early career and his time with NeXT Computer and Pixar. Also covered is a look at how Apple operates, its history, and its many innovations, including the iPod, the iPad, and the iPhone. Color photos and informative sidebars accompany easy-to-read, compelling text. Features include a timeline, facts, additional resources, Web sites, a glossary, a bibliography, and an Index. Technology Pioneers is a series in Essential Library, an imprint of ABDO Publishing Company.
Lawn Boy Returns
By Paulsen, Gary ISBN 9780375896545 Text in English 67 Pages | 920L | Literature | 1.7MB Gary Paulsen's funny follow-up to Lawn Boy is full of big surprises and big laughs.

Lawn Boy says: The summer I was twelve, mowing lawns with Grandpa's old riding mower turned into big business. With advice from Arnold the stockbroker, I learned all about making money.

Six weeks and hundred of thousands of dollars later, life got more complicated. You see, the prizefighter I sponsor, Joey Pow, won a big fight. And a TV interview made me famous. As Arnold says, "Capitalism plus publicity equals monster commerce." Even my best friends wanted a piece of the action. Meanwhile, some scary guys showed up at Joey's gym. . . .

Facebook: The Company and Its Founders
By Harris, Ashley Rae ISBN 9781614801801 Text in English 114 Pages | 1100L | Informational | 3.9MB Looks at the history of the online social network, its founders, Mark Zuckerberg, Eduardo Saverin, Dustin Moskovitz, and Chris Hughes, and how the company rose to the heights of popularity. (Multiuser)

Wheelmen Lance Armstrong, the Tour de France, and the Greatest Sports Conspiracy Ever
By Albergotti, Reed ISBN 9781101635889 Text in English 360 Pages | 1230L | Informational | 1.5MB The first in-depth look at Lance Armstrong's doping scandal, the phenomenal business success built on the back of fraud, and the greatest conspiracy in the history of sports

Lance Armstrong won a record-smashing seven Tours de France after staring down cancer, and in the process became an international symbol of resilience and courage. In a sport constantly dogged by blood-doping scandals, he seemed above the fray. Then, in January 2013, the legend imploded. He admitted doping during the Tours and, in an interview with Oprah, described his "mythic, perfect story" as "one big lie." But his admission raised more questions than it answered-because he didn't say who had helped him dope or how he skillfully avoided getting caught.

Heist Society
By Carter, Ally ISBN 9781423139386 Text in English 201 Pages | 800L | Literature A group of teenagers uses their combined talents to re-steal several priceless paintings and save fifteen-year-old Kat Bishop's father, himself an international art thief, from a vengeful collector.

Managing Money Handbook
By Nan, Bostic ISBN 9781612473475 Text in English 122 Pages | 780L | Informational | 6.5MB Theme: Hi-Lo, Lifeskills, career, achieve independence, skills, moving, finding a home, on your own Combining practical content with visual appeal, the 21st Century Lifeskills handbooks read more like a magazine than a book. Highly readable with full-color photographs, a smaller trim size and an eye-popping layout, these 120-page handbooks are great for teaching life skills to a twenty-first century population. The 10 handbooks in this series will provide readers a thorough and non-threatening introduction to the multi-dimensional competencies, concepts, and vocabulary they need to achieve independences--including community resources, job searching, money management, job etiquette, health, moving and more. Used along or in conjunction with the 21st Century Lifeskills worktexts, these handbooks offer students a unique and visual way to achieve real-world literacy. The handbook is a thorough and non-threatening introduction to: The Wise Buyer; Shopping for Goods; Shopping for Services; Consumer Rights. This handbook offers students a unique and visual way to achieve real-world literacy.


Mr. Sam How Sam Walton Built Walmart and Became America's Richest Man
By Blumenthal, Karen ISBN 9781101529225 Text in English 125 Pages | 1200L | Informational | 4.1MB Sam Walton grew up to become the founder of Wal-Mart, but he was born with practically nothing except a compulsive drive to win - at football, at becoming class president, at beating everyone no matter what the game. His eventual empire started as nothing more than a dingy one-room general store. He created Wal-Mart - and his massive wealth - one building at a time, one town at a time. This is not a history of his company, but the biography of an uncomplicated man who just wanted to beat the guy down the street. More than forty black-and-white photos illustrate the text.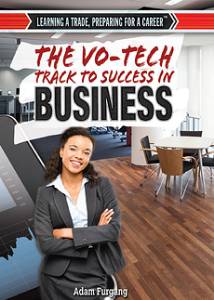 The Vo-Tech Track to Success in Business
By Adam Furgang ISBN 9781477777237 Text in English 80 Pages | 1100L | Informational | 12.9MB Careers in the field of business vary widely and attract students with many different skill sets and interests. Through vo-tech programs, students can begin exploring business opportunities in high school and honing the skills they will need to one day succeed in the field. Office experience goes hand-in-hand with classroom learning in such programs, providing students with a thorough grounding in everything from accounting and finance basics to the latest technologies used in e-business. Readers will learn how a vo-tech business program can give them a leg up before pursuing a business career or further education.

Who Is Bill Gates?
By Demuth, Patricia Brennan ISBN 9781101610329 Text in English 51 Pages | 720L | Informational | 17.1MB Bill Gates, born in Seattle, Washington, in 1955, is an American business magnate, investor, philanthropist, and author. In this Who Was...? biography, children will learn of Gates' childhood passion for computer technology, which led him to revolutionize personal computers. Through the success of his now-world-famous software company, Microsoft, Bill Gates became one of the wealthiest philanthropists in history.This fascinating story of a child technology genius is sure to captivate all audiences!

Who Was Milton Hershey?
By Buckley, James ISBN 9780698159778 Text in English 36 Pages | 780L | Informational | 15.2MB Discover the man behind the chocolate bar! Milton Hershey's life was filled with invention and innovation. As a young man, he was not afraid to dream big and work hard. Eventually, he learned the secret to mass-producing milk chocolate and the recipe that gave it a longer, more stable shelf life. He founded a school for those who didn't have access to a good education and an entire town for his employees. Both his chocolate empire and his great personal legacy live on today.


Who Was Steve Jobs?
By Pollack, Pam ISBN 9781101577905 Text in English 41 Pages | 660L | Informational | 16.6MB Steve Jobs, adopted in infancy by a family in San Francisco, packed a lot of life into fifty-six short years. In this Who Was.? biography, children will learn how his obsession with computers and technology at an early age led him to co-found and run Apple, in addition to turning Pixar into a ground-breaking animation studio. A college dropout, Jobs took unconventional steps in his path to success and inspired the best and the brightest to come with him and "change the world."